Amica Offers Empathy Platform for Beneficiaries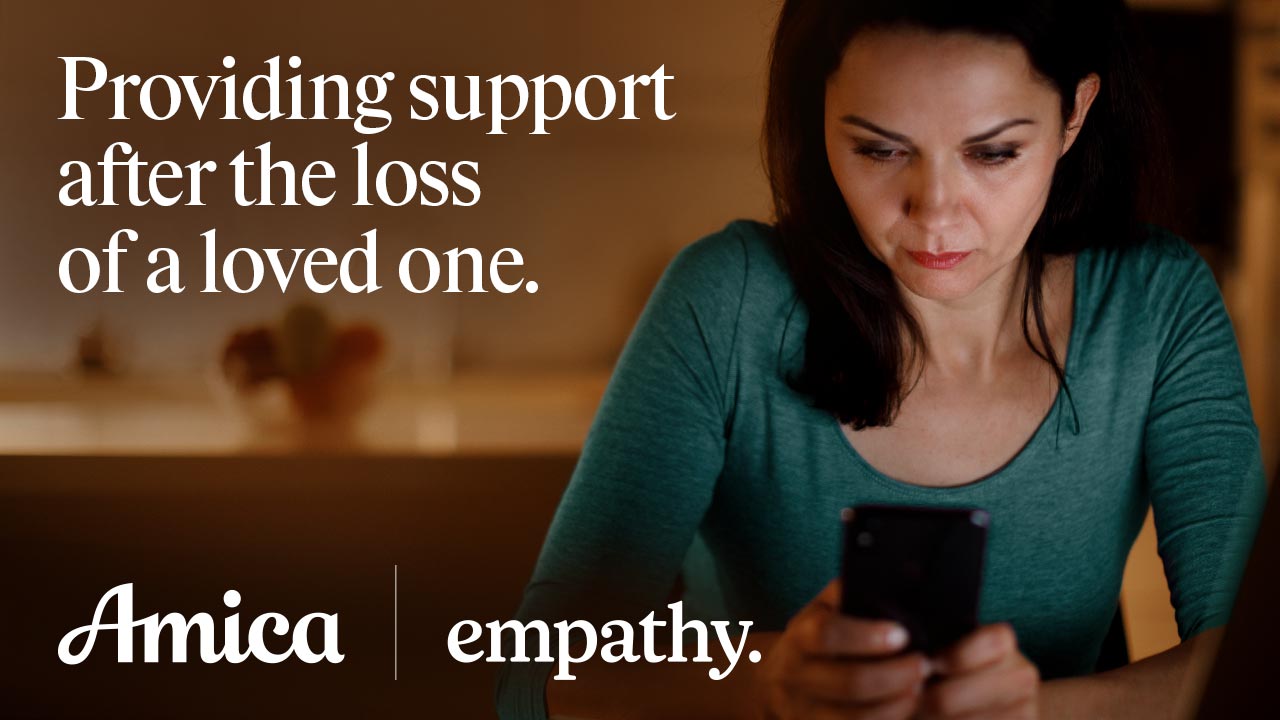 Amica Insurance, a leader in auto, home and life insurance, announced that it will begin offering beneficiaries of life insurance customers complimentary access to Empathy, the comprehensive support system for loss. Combining technology and human care, Empathy helps families through all the emotional and practical challenges of losing a loved one, with personalized, comprehensive, on-demand support.

"We know the days, weeks and months after a loss can prove to be the hardest to navigate," said Shiela Companie, Senior Vice President and General Manager at Amica Life. "Empathy walks beneficiaries through the process, providing real-time support and guidance on everything from obituary writing to navigating probate and much more. It's the perfect extension of the empathetic service Amica offers our customers and their beneficiaries."

Among other features, Empathy simplifies and streamlines paperwork, helps with funeral planning and estate settlement, and offers Care Managers, who provide families with one-on-one care throughout the bureaucratic burdens of loss, and the emotional challenges it brings.

On average, families spend 13 months settling a loved one's affairs; that can extend to 20 months if the estate undergoes the entire probate process. Amica recognized that while life insurance plays a vital role in alleviating financial strain, families often require more support to deal with their new financial, legal and administrative responsibilities.

"I'm delighted that Amica has selected Empathy to offer vital, additional support to beneficiaries," said Ron Gura, Co-Founder and CEO of Empathy. "Life insurance is about much more than a transaction. Together, we'll transform how insurance carriers support beneficiaries at a moment in their lives when they are most in need of assistance."

About Empathy
Empathy is the comprehensive support system for loss, offering bereaved families holistic guidance and care for all of the administrative, emotional, legal, and financial challenges they face after their loved one passes away. Empathy's award-winning app and care team are trusted by leading employers and insurance carriers to support their employees and beneficiaries through life's greatest challenges, saving them time, money, and stress. Headquartered in New York and recognized as a Top Digital Health Company by CB Insights, as well as a Most Innovative Company by FastCompany, Empathy has raised $43 million in funding from leading investors including General Catalyst, Aleph VC, and Entrée Capital. To learn more about Empathy, visit us at empathy.com.
About Amica Insurance
Amica is the longest-standing mutual insurer of automobiles in the U.S. A direct writer, Amica also offers home, life, marine and umbrella insurance, as well as annuities. 
Founded on principles of outstanding service, Amica creates peace of mind and builds enduring relationships with its customers. That mission is shared and supported by thousands of employees across the country. Visit Amica.com.