MADD® shares toolkit for Teen Driver Safety Week
Amica, MADD partnering on Power of You(th)® program in 2021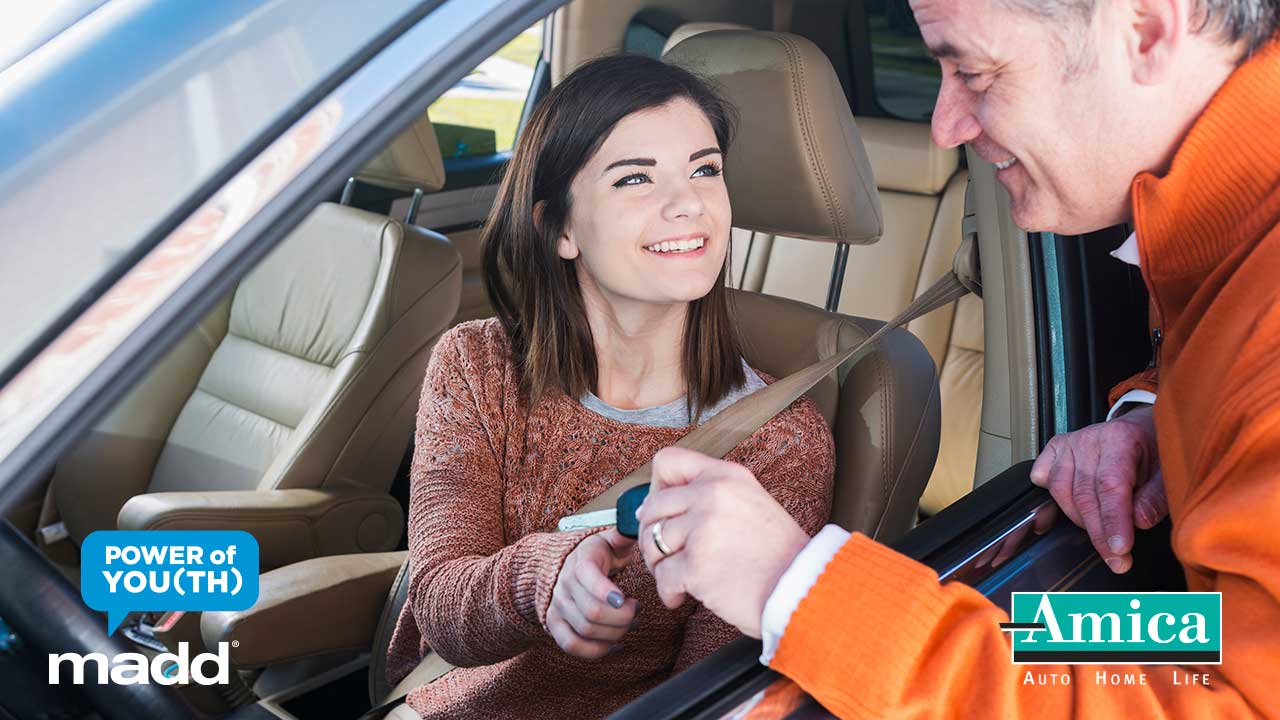 Earning a driver's license is a first step toward freedom and independence for America's teens. National Teen Driver Safety Week is Oct. 17-23, and it's a good time for parents to, once again, stress to their children the importance of safe driving habits.
Peers also have a powerful influence on each other. Just as teens can be influenced by others' negative choices, they can also be impacted by the positive choices their peers make. That's why Mothers Against Drunk Driving® (MADD) is calling upon teens to take a stand and be the positive example for their friends. The organization offers a toolkit specifically for teens to encourage them to use their power to keep themselves and their friends safe.
Amica Insurance supports MADD in its mission, and, this year, has partnered with the organization to support its Power of You(th)® program. The program features interactive presentations delivered by certified facilitators to help youth explore the real, short- and long-term impacts of drinking underage, including how it can damage developing brains and have long-lasting social consequences.
For more information on MADD's Power of You(th)® program and to download the teen booklet, visit madd.org/power-of-youth.
 
About Mothers Against Drunk Driving
Founded in 1980 by a mother whose daughter was killed by a drunk driver, Mothers Against Drunk Driving® (MADD) is the nation's largest nonprofit working to end drunk driving, help fight drugged driving, support the victims of these violent crimes and prevent underage drinking. MADD has helped to save more than 390,000 lives, reduce drunk driving deaths by 53 percent and educate parents and teens on making safe choices. MADD's Campaign to Eliminate Drunk Driving® calls for law enforcement support, ignition interlocks for all offenders, advanced vehicle technology and designating a non-drinking driver. MADD has provided supportive services to nearly one million drunk and drugged driving victims and survivors at no charge through local victim advocates and the 24-Hour Victim Help Line 1-877-MADD-HELP. Visit www.madd.org or call 1-877-ASK-MADD.
About Amica Insurance
Amica is the longest-standing mutual insurer of automobiles in the U.S. A direct writer, Amica also offers home, life, marine and umbrella insurance, as well as annuities. 
Founded on principles of outstanding service, Amica creates peace of mind and builds enduring relationships with its customers. That mission is shared and supported by thousands of employees across the country. Visit Amica.com.