Amica Insurance once again receives top honor at Worksite Health Awards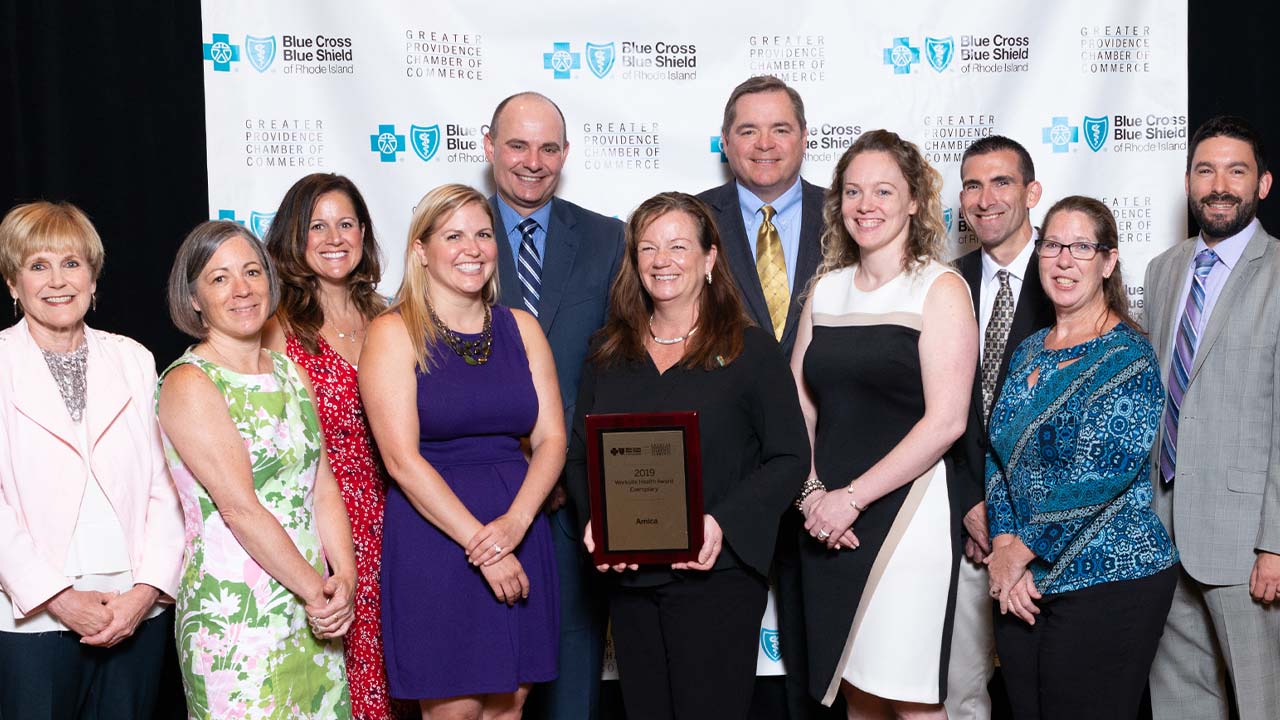 11/03/2019 Lincoln, R.I.
Amica Insurance has once again been honored with an Exemplary Worksite Health Award from Blue Cross & Blue Shield of Rhode Island and the Greater Providence Chamber of Commerce.
"Providing programs, resources and education to help our employees live a healthy lifestyle are the cornerstones of our wellness initiatives," said Jean Tapley, benefits and wellness supervisor in Amica's human resources department. "The fitness world is changing, and we want to support our employees and their families as they take advantage of these methods of staying healthy. Our fitness reimbursement program now includes the cost of race registration fees, personal training and virtual fitness class memberships. Healthy employees are happy employees, which lends itself to our reputation of providing the highest level of customer service."
Amica was one of nearly 60 Rhode Island businesses honored by BCBSRI and the Chamber with a Worksite Health Award at a breakfast attended by hundreds of state business leaders. The event celebrated local businesses who have demonstrated a commitment to improving Rhode Islanders' overall health through innovative wellness programs, as companies and individuals.

"By increasing morale and production, and decreasing healthcare costs and sick leave, worksite health programs are a win for all involved," said Laurie White, president of the Greater Providence Chamber of Commerce. "We applaud Amica for making the commitment to invest in the wellness of its team, and for inspiring more Rhode Island businesses to find creative ways to help their employees live better, healthier and happier lives."
About Amica Insurance
Amica Mutual Insurance Co., the nation's oldest mutual insurer of automobiles, was founded in 1907. The company, based in Lincoln, Rhode Island, is a national writer of auto, home, marine and umbrella insurance. Life coverage is available through Amica Life Insurance Company, a wholly owned subsidiary. Amica employs more than 4,000 people in 44 offices across the country. For more information, visit Amica.com.
Media inquiries can be sent to MediaCenter@amica.com.
Amica Media Center
Twitter: Amica
Facebook: Amica Mutual Insurance Co.