Halloween Safety Tips for Pets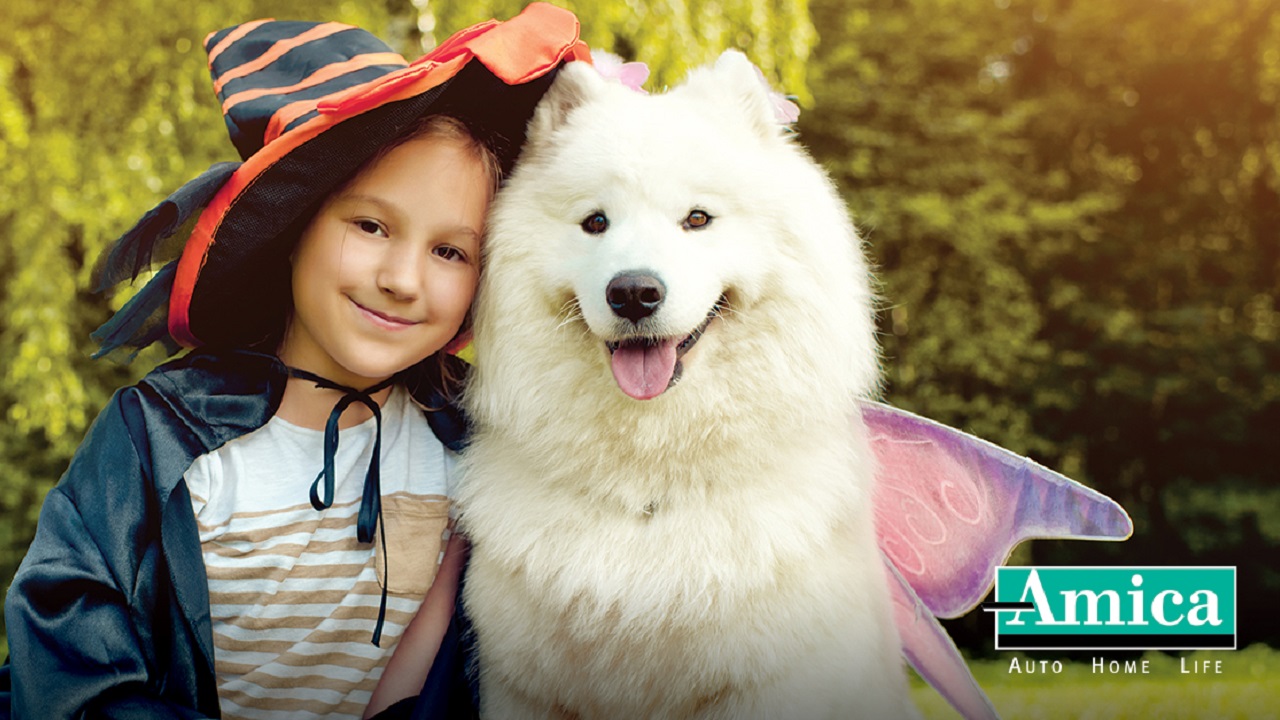 Halloween offers spooky fun for the whole family. However, there's often one family member that may go unnoticed during the ghoulish goings-on. The family pet! Did you know that Halloween can present health and safety hazards for pets.
Check out these tips to help you keep your furry friends safe during Halloween:

Candy is for kids (and their parents) only
Keep Halloween treats away from pets, as candy can be toxic for them. In particular, chocolate and sugar-free candy contain chemicals that are a health hazard to dogs and cats.
Candlelit jack o' lanterns and pets don't mix
A carved and illuminated pumpkin can be festive, but it's a good idea to place them out of reach of pets. Cats, especially kittens, can be attracted to a flickering flame and receive burns. Fire can also result from a pet knocking a lit pumpkin over. Raw pumpkin can also cause an upset in your dog or cat if eaten.
Comfort is key when choosing a costume
Putting your pet in a costume can be cute. But it may also cause them stress and anxiety. Make sure to try the costume on your pet ahead of Halloween and gauge their reaction carefully. Always make sure that a costume isn't too binding so your pet can breathe properly and have full range of mobility. When in doubt, go with a Halloween-themed bandana!
Calm's the word
A constant stream of trick-or-treaters and doorbell rings can really rile up a pet. Unless your pet is comfortable with visitors, it may be a good idea to keep them in a separate room during peak trick-or-treating hours.
Decoration danger
Be sure to keep all electric or battery-powered decorations hung or placed somewhere that a pet can't get to them. Chewing on electrical cords can cause burns, shocks and even death for pets, and batteries can cause chemical burns if opened or gastrointestinal blockage if swallowed. 
We know that keeping the furriest members of your family healthy and protected is important to you, and when your pets get sick or accidentally hurt, medical bills can add up. That's why we've partnered with Embrace Pet Insurance to provide pet insurance for your dog or cat at an affordable rate.

Get an online pet insurance quote today. Or for more information, call 800-643-6012 to speak with an Embrace representative.
 
About Amica Insurance
Amica is the longest-standing mutual insurer of automobiles in the U.S. A direct writer, Amica also offers home, life, marine and umbrella insurance, as well as annuities. 
Founded on principles of outstanding service, Amica creates peace of mind and builds enduring relationships with its customers. That mission is shared and supported by thousands of employees across the country. Visit Amica.com.