Enjoy the Ride: Tips for Better Bike Safety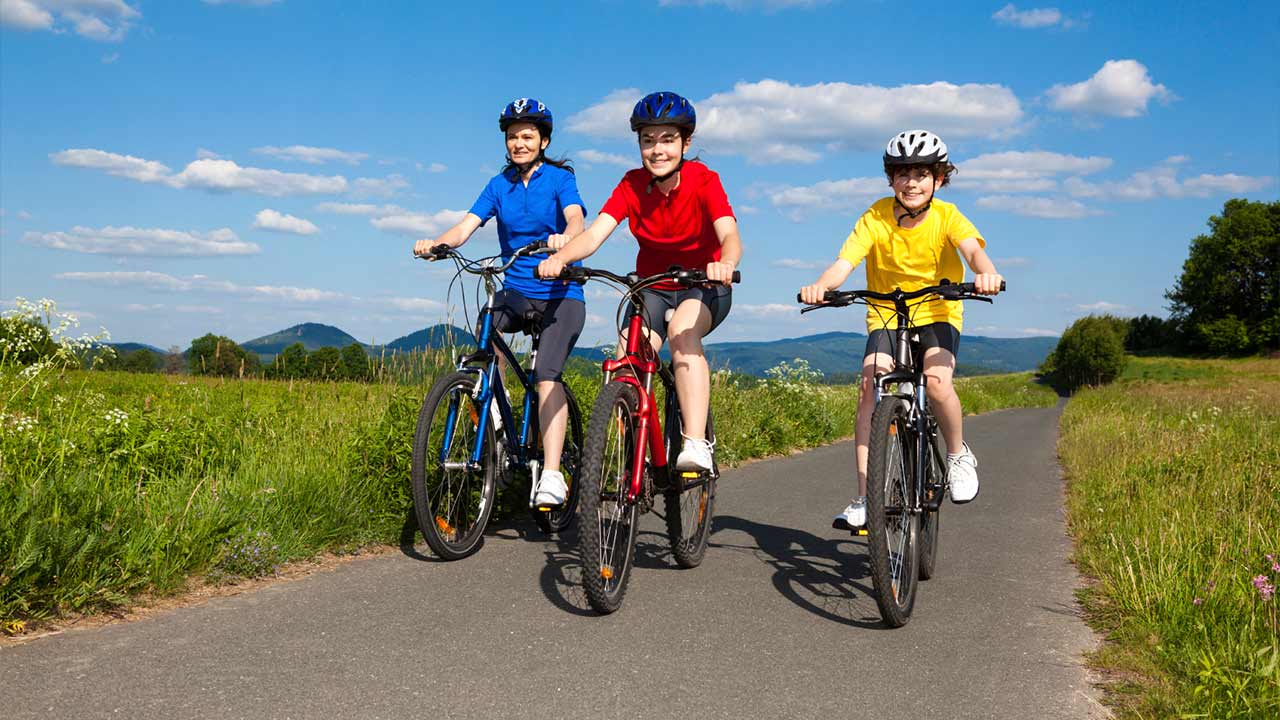 As the weather gets warmer and the days get longer, people of all ages will dust off their bikes and start riding again, which means it's unfortunately also the time when bicycle-related injuries skyrocket.

According to the National Highway Traffic Safety Administration (NHTSA), there were 857 pedalcyclists killed in motor vehicle traffic crashes in the U.S. in 2018. That's a 6.3% increase in fatalities from the previous year and the highest number of fatalities since 1990 (859 fatalities).
To help reduce this statistic, we're sharing our top five tips for better bike safety for all ages.
Always wear a helmet
Bike accidents, injuries and deaths can be reduced if bicyclists of all ages – not just young children – wear a helmet while riding. The NHTSA reports that a helmet is the single most effective way to prevent head injury resulting from a bicycle crash.
According to data from U.S. Department of Transportation's (DOT) Fatality Analysis Reporting System (FARS) 61% of bicyclists killed in 2018 weren't wearing helmets.
It's important to wear a helmet that not only meets federal safety standards, but one that fits properly. Your helmet should fit securely on top of your head, with the straps fastened under your chin and it shouldn't be able to move.
Be visible no matter the time of day
Whether you're biking during the day or at night, wear bright colors and fluorescent clothing with reflective material so that you're always visible to cars. It's also a good idea to attach a white front light and red rear light and use reflectors on your bike. Keeping you and your bike visible and "night ready" at all times is the safest way to ride.
Choose and maintain the right bike
Just as proper fit is key with helmets, finding a bike that is the correct size is essential. You'll know it's the right size if your feet comfortably reach the ground when you're sitting on the bike.
You wouldn't drive your car if it was falling apart – the same is true when biking. Always keep your bike in good working condition: be sure to check the brakes and gears before you ride, and keep the tires properly inflated.
When you ride out, carry items in a backpack or strapped to the back of your bike. Also, make sure your shoelaces are tied tightly and loose clothing, like pant legs and skirts, are tucked away so they don't get caught in your bike chain.
Ride responsibly
It's important to practice safety riding bicycles on the road. Bicyclists are considered to be like cars and other vehicles, and therefore must obey the same rules of the road as drivers. You must ride in the same direction as traffic and obey signs, signals, lights and lane markings. And just as if you were driving your car, don't text or use anything that distracts you from the road when cycling.
Bike defensively
Always be aware and courteous of other vehicles and be on the lookout for pedestrians. When passing pedestrians be sure to announce "on your left" or "passing on your left," or use a bell to announce your approach.
Be cautious of parked cars along the road. Passengers may be opening their doors without looking for oncoming traffic – you don't want to be hit by an unsuspecting door.
Have fun and enjoy the ride!
There are many benefits of bike riding including your health. Biking is a great form of exercise and an easy way to unplug from the screens and get some Vitamin D.
It's also a good way to go green for the environment. You can save gas money and the environment too by choosing to bike your commute instead of driving your car.
More people are choosing to bike their commute. According to the League of American Bicyclists, from 2000 to 2013, bicycle commuting rates in large Bicycle Friendly Communities increased 105% – far above the national average of 62%.
Enjoy the ride by making safety your top priority when biking to work or with family and friends.
The information in this article was obtained from a source or sources that are not associated with Amica. The information is reliable and accurate to the best of our knowledge.

About Amica Insurance
Amica is the longest-standing mutual insurer of automobiles in the U.S.
A direct writer, Amica also offers home, life, marine and umbrella insurance, as well as annuities.
Founded on principles of outstanding service, Amica creates peace of mind and builds enduring relationships with its customers. That mission is shared and supported by thousands of employees across the country. Visit Amica.com.
Media inquiries can be sent to MediaCenter@amica.com.
Amica Media Center
Twitter: Amica
Facebook: Amica Mutual Insurance Co.