Accidents can be stressful, but the reporting and processing of your claim shouldn't be. 
We give you our commitment that we will work with you to resolve your loss as quickly and efficiently as possible. Our quality service record has been recognized and awarded time and time again.
Report or track a claim online
Amica customers
You will need to log in to your account for the following online services.
You can also log in to file a claim through chat with our live representatives, Monday through Friday, 8:00 a.m. to 9:00 p.m. (EST) and Saturday, 10:00 a.m. to 5:30 p.m. (EST).
Not an Amica customer?
You can still report a claim that you have with an Amica customer or upload files related to the claim.
Report a claim by phone
You can report a claim by phone. Our representatives are standing by.
Auto, Home, Marine, Umbrella
Life
Claims questions
We have answers to the most common questions for auto, home and life claims.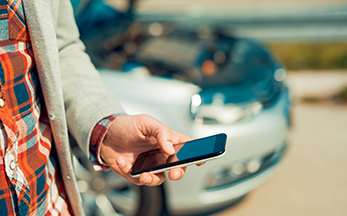 Roadside assistance
Roadside Assistance service is available to all Amica customers who have Towing and Labor Coverage. You can still use this service if you do not have the coverage, but you may be responsible for any expenses incurred.
Call 866-286-9968
Repair assistance program
You can always choose who repairs your vehicle or home. We can help you find a qualified professional if needed.
Call us at 800-242-6422 to locate a repair shop near you
Amica Storm Center
When disaster strikes, Amica will be there for you. Get the latest news and information before, during and after a disaster.