The Gifts of Thanksgiving
Beauty, bounty and light
At Amica, we're deeply grateful for our family and friends, employees and customers. We're pleased to present our 2022 Thanksgiving greeting, free for you to share with the ones you're grateful for.
When you do, you'll help Amica support Feeding America, a network of 200 food banks and 60,000 food pantries and meal programs that, together, serve over 40 million people. Now through Nov. 22, 2022, each time you share this free e-card, we'll donate $1 to Feeding America, up to $25,000. Each dollar provides at least 10 meals to people facing hunger.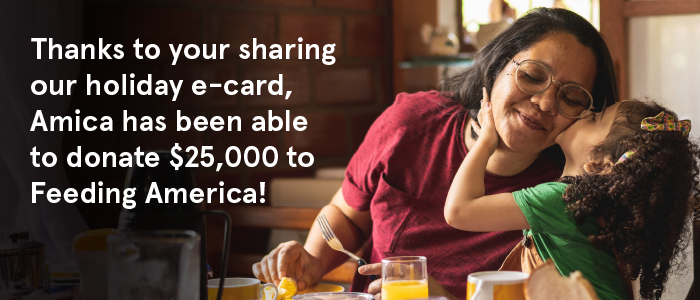 Our 2022 artist
Erin Hanson's sense of place is deeply rooted in nature, as evidenced in "Maple Lights," which captures the sweeping view from her home in Oregon. Renowned for her distinctive Open Impressionism style, Erin's work hangs in private and corporate collections globally, and in her three galleries in the West and Southwest. We're honored to add her work to the Amica Thanksgiving Gallery in Lincoln, Rhode Island, home to our permanent collection of original art, now celebrating 52 years of gratitude.
The sharing of our e-card does not give Amica access to any of your information or that of the recipient(s)