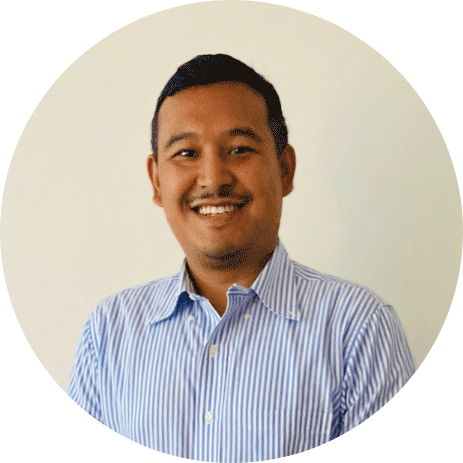 Sunil G.
Business Systems Analyst – Life
The work that Sunil has done the past two years is mostly unseen by our policyholders. But it plays a vital role in helping Amica provide the award-winning customer service for which we're known.
Sunil is a Business Systems Analyst in Amica Life's technology area, working with the Project Management and Business Excellence Teams to define and document requirements for Life's software development programs. As he described it, his job is helping Amica Life improve its technology to our customers' benefit, explaining that everything he does is through the customer lens.
"My job is defining and documenting functionalities for customer-facing websites, as well as the internal software that employees use to apply, underwrite and deliver life insurance policies," he said. "Ultimately, our goal is to make sure the customers are being heard and that we're meeting expectations."
Sunil works with all of the teams in Amica Life to help them improve their processes. Most recently, he's been busy getting ready to deploy Life's new Continuous Improvement Program. It's an all-encompassing revamping of the way Amica Life works internally, empowering its employees to use new tools and skills to become drivers of change.
"That's where we'll be helping all the managers and supervisors use different tools related to continuous improvement that will help them to build better work processes within the department. It will also eventually help our customers have a better experience [at Amica]," Sunil said.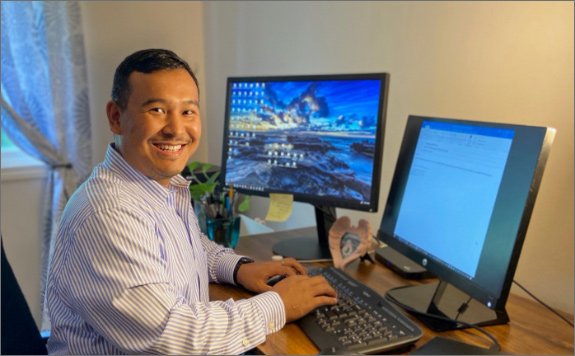 Speaking of employees coming together to make Amica even better, Sunil sees being able to work as a team player as integral to success at the company. He explained that, to him, teamwork and collaboration means coming into work with an open mind.

"I think you have to be very open-minded and not be fearful of speaking your mind and also, at the same time, be respectful of other opinions. Because most of the time you're working with so many other teams, and people have different personalities. Be positive and have a sense of collaboration."
Sunil came to the U.S. from Nepal at the age of 18. Many of his family members, including his parents and sister, still live there.  
"I did my bachelor undergrad in Minnesota. So, I lived there for four years. And I've lived in Illinois and Ohio during my past work as a contractor. I came [to the U.S.] right after I finished high school. It was a wild ride. Going to another country by myself, it was a long and tough journey," he admitted.
He also talked about being from a South Asian country that's primarily located in the famed Himalayas mountain range, and revealed that he's constantly asked if he's climbed probably the most famous (and tallest) mountain in the world. The answer is "no," but it is on his bucket list. Sort of.
"A lot of the time, because I'm from Nepal, people ask, 'Have you climbed Mount Everest?' No, I have not. But, I do want to get up to the base camp. That's something I really want to do when I have the time. I may not get to the top, but the base camp would be nice."
Mount Everest aside, Sunil's work at Amica is helping the company reach new heights.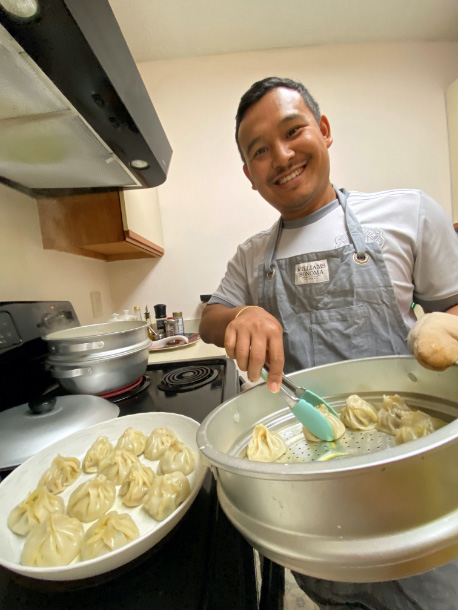 Hidden talents?
I used to sing when I was a kid. I stopped doing that after high school. I had a chance to sing on the radio one time.
Hobbies?
I'm very into soccer, and a big sports fan. I follow Manchester United for the English Premiere League, and Barcelona for the Spanish League. I also follow local New England sports teams like the Patriots and the Celtics.
You told us you like to cook – is there one dish that's your favorite to make?
One of the dishes that's very popular in our country is called Momo. It's like a Chinese dumpling, but the filling is spicier and we have a lot of ingredients mixed with the meat like ginger, garlic, turmeric and cilantro, and spices like coriander. It's one of the dishes we cook all of the time when gathering with friends and families.